Join fellow stitchers around the world for 365 days of Stitch Therapy!
Helen Stubbing of Hugs 'n Kisses has designed a darling, preprinted panel with 365 motifs.



When you join the program, you will receive your preprinted panel from Cotton Patch and a daily email from Helen with the pattern and tips.
Along with that daily email, there will be featured blog posts and stories about the Therapy of stitching from Helen & guest bloggers throughout the program.
All are invited to share progress online at Instagram #stitchtherapy365 and #stitchwithhelen with monthly giveaways from sponsors - so be sure to post and use those hashtags to be in the winning.


Helen will be adding videos or helpful links during your journey on different methods she used and hints and tips along the way
This project is all about the Therapy of Stitching. Just a few minutes of peaceful stitching each day can bring peace, fulfillment and a sense of purpose.
Enjoy the journey, take time for you and join in with many others around the world as we stitch together online
The program will go live on the 1st January 2019, but you can join the program at any time.

Your Day 1 starts when you sign up - no playing catch up!
Please be aware:
To be a part of this program you must be able to recieve emails, click on a live link, download and save files from that link on their computer or device, and print files to a printer.
We are unable to troubleshoot or advise on IT issues during the program.
Note: your finished quilt without borders will measure 40" x 65"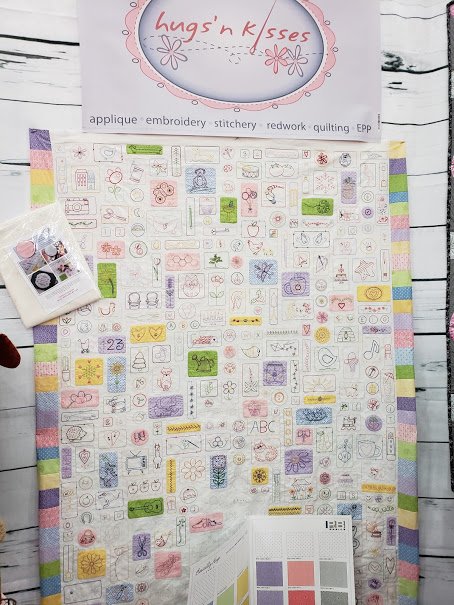 Helen has recommended Aurifil 12wt thread and we are happy to offer a kit with all 20 spools for you.



Also recommended is
the Yazzii Craft Box with Fabric Top. We offer this Yazzii in Aqua, Purple, Green and Fuchsia.

This bag is perfect to hold your Work in Progress with the thread box fitting nicely into the front section and the panel, hoop, needles and scissors sitting inside the back section for storage and stitching on the move.
After you purchases the optional Yazzii bag, Helen we will email you a free pattern of your own Monogram letter to embellish the top.